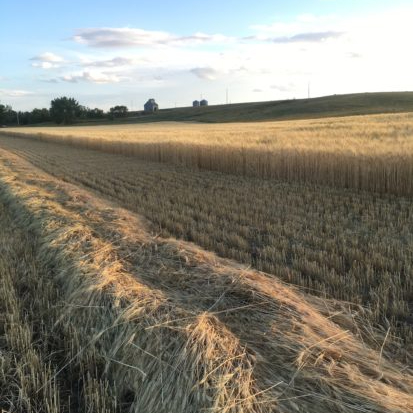 Farver Farms
Contact: Shauna Farver
Address: 506 1st Avenue East Scobey, MT, 59263
Email Address: yellowstonevalleyfoodhub@gmail.com
Phone: 406-783-7113
About Us
We are so incredibly grateful for our lifestyle.
Farver farms is a 4th generation grain farm located in Scobey, MT. Our farm offer us the opportunity to work together side-by-side every day, raise our kids right smack in the middle of Rural America, & see the miracle of growth in every new season is one we don't take for granted.

In 1926, Terry's Great-Grandfather on his mother's side, C.K. Hanson, purchased the homestead and part of the farm where we live now. Since then, his family has been growing grain here on the prairies of Northeast Montana.
Combined with the heritage on his father's side and their history back to the late 30's in the area, his roots here run deep.

We're happy to be able to share that history and heritage through our blog, as well as our fundraising program, which features the grains grown right here on the Farm.
Practices
We raise 3,000 acres, give or take, of spring wheat, winter wheat, field peas, lentils, corn & barley. We hay another 225 acres, & run a herd of 100-ish Black Angus cow/calf pairs.

And while most of our field crops go directly to an export market, but we also have created a line of lentil and wheat mixes that we sell across the state of Montana. Each of our mixes features the wheat or lentils we grow here on the Farm and is combined with a special selection of spices to create a hearty, nutritious base.
You simply add one or two ingredients commonly found in most kitchens, and you've got a homemade, full of flavor meal, snack or sweet treat that you can feel great about serving to your family!

All of our mixes are packaged in our own certified kitchen, giving you a truly 'field to fork experience'!
We're proud to participate in the Grown in Montana and Made in Montana programs.